For the first time in the history of The Walking Dead, the latest episode delves into a previously unexplored part of Daryl's life.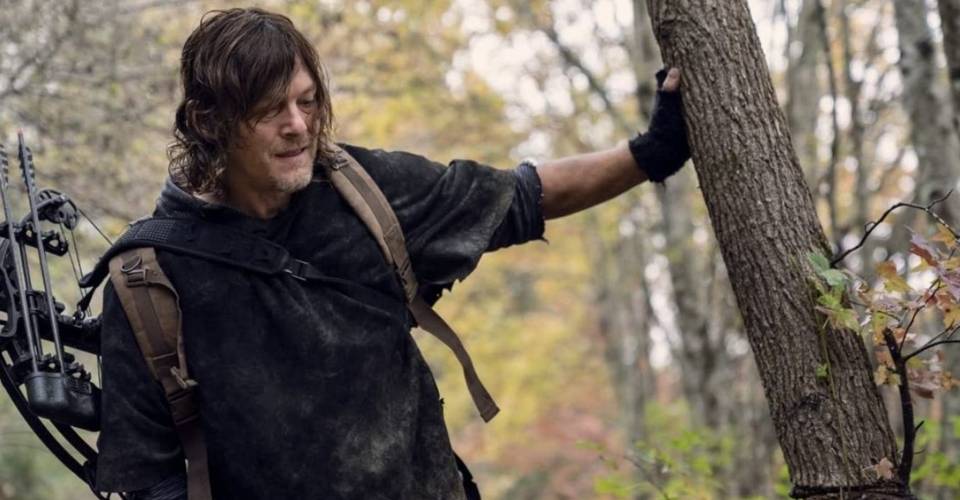 WARNING: The following contains spoilers for The Walking Dead Season 10, Episode 18, "Find Me," which aired Sunday on AMC.
The premiere episode of Season 10C of The Walking Dead spotlighted Maggie's heroic return and filled audiences in on her time spent away from the joint communities. In contrast, Episode 18, "Find Me," gives fans a taste of what AMC's upcoming Carol and Daryl spin-off will likely look like with a Carol and Daryl-focused adventure. While the two are on a hunting trip, an unexpected discovery triggers a series of flashbacks that feature Daryl's first on-screen romance.
Carol and Daryl debuted in Season 1 of The Walking Dead, making them the only two original characters left on the series. While Carol's had a few relationships in that time, the series has tiptoed around Daryl's love life — or lack thereof — for 10 seasons. There were hints of a potential romance with Beth Greene before she was killed in Season 5, and more recently, he established a bond with Connie prior to the cave-in earlier in Season 10. And of course, there is his close friendship with Carol, which has sparked heated debates since the show began. Despite this, none of these relationships ever progressed to the next level, much to the dismay of fans.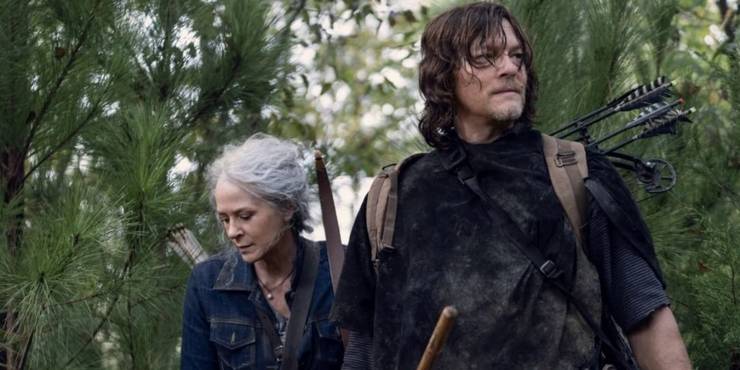 In the world of television and film, it's rare to see a male lead without a clear love interest. This departure from the norm remains the main evidence behind the popular fan theory that Daryl is asexual. However, for the first time in The Walking Dead history, "Find Me" revealed the crossbow-wielding survivor has had a real love interest, putting that theory to rest.
In the episode, Carol and Daryl are led to an isolated cabin by Dog. The discovery prompts Daryl to flashback to his search for Rick after his disappearance in Season 9. While combing the river for clues, Daryl crosses paths with Dog, who leads him back to the cabin and his owner, Leah. Although Leah initially holds Daryl at gunpoint and refuses to reveal her name, the two continue to cross paths, and a few kind gestures later, the pair develop a bond. As time passes, Daryl moves into her cabin and their friendship blossoms into an unexpected romance.
However, Daryl's persistent desire to find Rick ultimately drives a wedge between him and Leah. During an argument, she demands he choose either Rick, the people he left behind or her before storming out. Daryl returns to his old campsite to retrieve supplies, and when he returns to the cabin, Leah is gone as is the beloved picture of her son, although Dog has been left behind. The cabin appears to be in disarray, suggesting a hasty exit or perhaps a forced one. With Leah's fate unknown, Daryl leaves some canned goods and a note that says, "I belong with you. Find me," in a secret hiding place under the cabin's floorboards.
After Daryl finishes recounting the story to Carol, the episode returns to the present. Although Carol attempts to comfort Daryl by reminding him losing people like Leah, Rick and Connie isn't his fault, Daryl snaps back. He might be upset about Leah, but Connie's loss is much fresher. Despite claiming to forgive Carol for essentially causing Connie's apparent death, it's clear resentment lingers.
While Walking Dead fans are likely to be thrilled by Daryl's long-anticipated romance, Leah's unresolved fate leaves many unanswered questions, primarily if or when she'll return. Although the joint communities don't know Connie is still alive, her probable comeback may also play a role in Daryl's newfound love life. Despite him insistence their relationship isn't "like that," fans don't seem ready to rule out a Connie relationship just yet.
The Walking Dead stars Norman Reedus, Melissa McBride, Lauren Cohan, Josh McDermitt, Christian Serratos, Jeffrey Dean Morgan, Seth Gilliam, Ross Marquand, Khary Payton and Cooper Andrews. The series airs Sundays at 9 p.m. ET/PT on AMC and is available to stream early on AMC+.